Who we are and what we do
Africa's Eden is a Tour Operator and Ground Operator, with its own accommodations in west central Africa. Based on the concept of 'Tourism pays for Conservation', we arrange exclusive trips to Loango National Park in Gabon and the islands of São Tomé & Príncipe.
What we do
Research & Conservation
In Gabon Africa's Eden supports conservation projects in Loango National Park and a gorilla sanctuary on Evengué island. Also Africa's Eden created a school in the village near Loango Lodge, and participated in an educational campaign to teach the children about primates and the bush meat trade.
Wildlife, nature and island tours
For the passionate traveller looking for unspoiled, raw nature, we offer tours and exclusive, comfortable accommodation in west central Africa. Our current tours are based in Loango National Park (Gabon) and on the islands of São Tomé and Príncipe.
Our Values
Africa's Eden adopts the concept of 'Tourism Pays Conservations'. Our core values are:
we respect and aim to conserve pristine nature. Profits generated by Africa's Eden are reinvested in the area to ensure the continuity and economically sustainable protection of the national parks;
we focus on the sustainable development of the regions where we operate.
We offer small groups of tourists the opportunity to experience pristine nature in unique, unexplored destinations.
Our conservation partners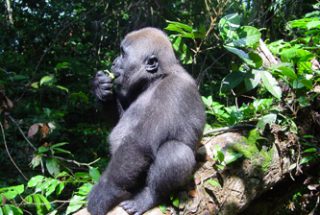 Max Planck Institute
A  project of wild lowland gorillas and chimpanzees within Loango National Park for the joint purposes of ecotourism and research.
Fernan-Vaz Gorilla Project
A project that focuses on caring for western lowland gorillas rescued from the bush meat trade.