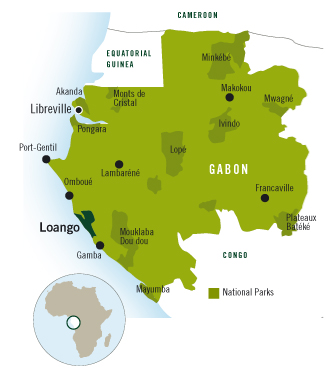 Gabon
Many nature lovers well acquainted with the African continent consider Gabon a rare and exotic tropical gem. Yet, tourism here still remains relatively undeveloped. Wildlife rich forests cover 70% of Gabon's landmass, its vast picturesque coastline is predominantly wild and unspoiled, and its inland and coastal waters teem with myriad species of fish, reptiles and marine mammals.
Mike Fay, National Geographic, about Loango National Park, Gabon:
"I literally want as many people on Earth as possible to see this place and fall in love with it"
Loango is Africa's Last Eden
The naturalist Mike Fay has referred to Loango, one of Gabons thirteen national parks, as 'Africa's Last Eden'. This is also where the photographer and conservationist Nick Nichols from National Geographic took his famous pictures of surfing hippos and elephants on the beach.
70% covered by wildlife rich rain forest
But besides hippos there's plenty more to discover in the rain forests and waters, for Gabon is home to forest elephants and western lowland gorillas and nearly 200 other mammal species, 600 species of birds, and more than 8,000 plant species.
Long lasting political stability
Gabon's small population (just over 2 million), abundant natural resources, and foreign private investment have helped make Gabon one of the more prosperous African countries, with a longstanding stable political climate.
Travel to Gabon: located on the equator
Gabon is bordered to the West by the Atlantic Ocean, to the North by Equatorial Guinea and Cameroon, and to the East and South by the Congo.