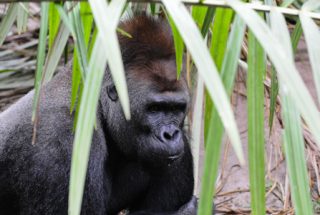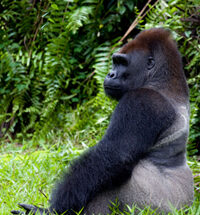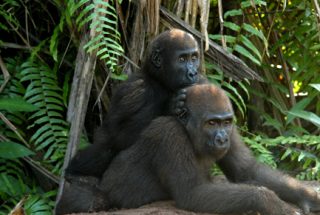 Observing gorillas in the wild
The Yatouga Research camp is approximately 1 hr. by boat from Loango Lodge. This project is the result of years and years of investment and hard work, which resulted in the first, properly habituated lowland gorilla group in Gabon.
You will meet up with the research team and be given a briefing about the visit. After the  briefing you will depart by boat and then enter the forest on foot following a team of Pygmy master-trackers whose daily task it is to track Kamaya, the western lowland gorilla silver back, and his family, including two youngsters.
Once contact is made with the gorilla group, you will have the chance to observe them from close-by (often 10-15 meters). It is an incredible experience watching these great apes in their natural habitat, doing what gorillas do.
Before leaving for this trip, we will ask you to read a paper briefing to allow to prepare fully for this experience.
Visiting Gorilla Sanctuary
During your stay with Africa's Eden it is possible to visit the the Fernan-Vaz Gorilla Project before, after or during your stay at Loango Lodge. The project is located on Evengue island, which is a 45 min boat drive from Omboué.
They will share their knowledge with you on the low-land gorilla and critical threats to their survival in the wild, including the bush meat crisis. Helping to counteract these threats is the background motivation of the Fernan-Vaz Gorilla Sanctuary and Rehabilitation & Reintroduction Programme.
Afterwards one of the guides can accompany you on a bush walk leading to our first gorilla family where you can spend some time with animals that cannot be rehabilitated fully. A boat can take you to a sanctuary island where the first generation of fully rehabilitated gorillas is living independently.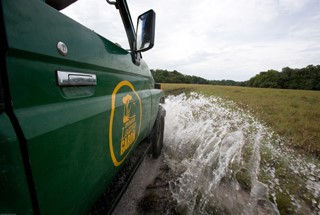 Safaris in Loango National Park
Safaris in a 4×4 jeep are an easy and comfortable way to view the park and its wildlife. On a drive one generally is able to spot large mammals including  buffalo, elephant, red river hogs and sitatunga. In the rainy season from November to April, you can find large mammals roaming freely on the beach.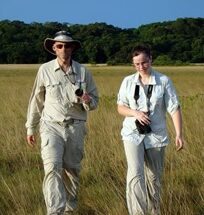 Walking safaris in Loango National Park
You can venture out with one of our eco-guides into the forest. On foot is one of the best ways to learn more about the diversity of the park. You may encounter wildlife such as elephants and buffalo, but it may be as exciting to discover the more inconspicuous forest animals and birds.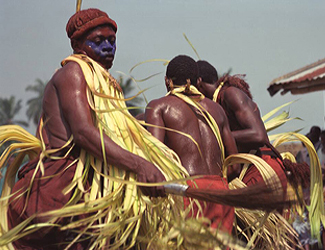 Cultural walks in Loango National Park
From the lodge, you can go on a cultural walk to the nearby village and visit the 'Operation Loango' school.